Whenever  the WRDSB cancels School Buses, choir practice is also cancelled.


November 30, 2018 – Kitchener Memorial Auditorium
Singing the National Anthem before the Kitchener Rangers game.
October 9, 2014 – The Record
2014  K-W Oktoberfest Rogers Women of the Year Awards
The WRDSB Spec Ed Choir was the recipient of the Group Achievement Award for their contribution and service to the life of our community.
May 17, 2014 – The Record
Choir is all about joy and community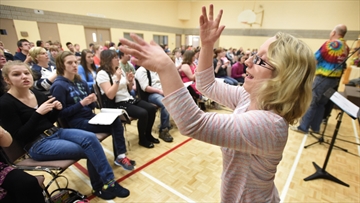 September 25, 2014
KW Habilitation Grand Opening
The Choir was honoured to be asked to perform at the Grand Opening of KW Hab's new facilities. Several of our choir members are also KW Hab clients. The weather was perfect, it as a great afternoon to sing in the sunshine!

October 11, 2013 – The Record
2013 K-W Oktoberfest Rogers Women of the Year Awards
Choir Director Nancy Tilt (Community Service), and choir member Stephanie Prysnuk (Young Adult) receive Woman of the Year awards.


June 26, 2010 – The Record
Night of Singing, Signing and Drama

Our 2010 Gala featuring both music and drama was a big hit.